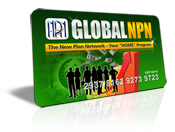 This is my first post in my GlobalNPN account.
As a member of GlobalNPN you can have your own Blog.
No hosting required, it's included in your membership.
The products we all can use are: Autoresponder system, email text formatter,
splashpage creator,  multi ad tracker, url rotator, web audio, video hosting,
sales funnel, screen casting, leads manager and a to do list, to manage your leads.
Also over 110 hours of video training included to get you started with GlobalNPN.
This all comes with a low Monthly fee. Start your free trial for just $1
Click on the Banner or Card to sign up or just opt in and follow the steps.
My name is Marja Opsteegh, age 56. My interests are Network Marketing, computers, music, reading, television and swimming to name a few.
Latest posts by Marja Opsteegh (Posts)