Almost $20,000 in Commissions in 30 Days
It isn't very often that a new mailer or traffic exchange can claim numbers like that. However, Matthew Graves's mailer program, 100 Percent Mailer did just that. Now he has taken the same idea to a whole new level with 100 Percent Traffic.
It isn't a Mailer, or a Traffic Exchange, or a Banner Exchange, or even a Text Ad Exchange. It is ALL 4 – plus offers 100% commissions!
100 Percent Traffic gives you the choice to earn your credits in the way you want to earn them and then use them for any of the 4 advertising methods they offer. Earn your credits by surfing the traffic exchange and then use them in the mailer, or vice versa.
There is only 1 type of credit, the Universal Credit, so you won't get stuck with too many banner credits and not enough Traffic Credits. You can use Universal Credits for everything!
If you are into exchange advertising, then you really need to be a member of this site!
Click on this banner to go check out 100 Percent Traffic.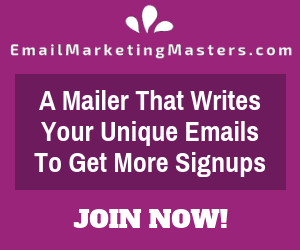 Lyle Alexander
One of my favorite quotes is by Carl Sandberg - "Nothing happens unless first a dream". Your dreams have been given to you for a purpose by the Dream Giver. You simply must pursue them! Don't let the dream stealers get you off your path to success. I am a 30+ year veteran of the network marketing home based business industry. I have many experiences and experience to share with you. I am here to tell you that the Nos do not count. Only the Yeses do. So, keep going and going and going for that next Yes, no matter what! You can do it! Lyle Alexander is also a 4th Generation Farmer helping to take his family farm into 105 years on the same farm in Southwest Oklahoma. From this farm, on the Internet, I have successfully implemented business social networking techniques and have opened countries on every continent for network marketing companies.
Latest posts by Lyle Alexander (Posts)